Board Salon Dinner, October 16, 2019
Representatives Chris Gallagher, Ranking Member of the U.S. House Committee on the Judiciary and Jim Langevin, Chairman of the Intelligence and Emerging Threats and Capabilities Subcommittee, and of the House Committee on Homeland Security joined the Board at its semi-annual Salon Dinner in October. Cybersecurity discussion topics included risk management, incentives and the Solerium Project.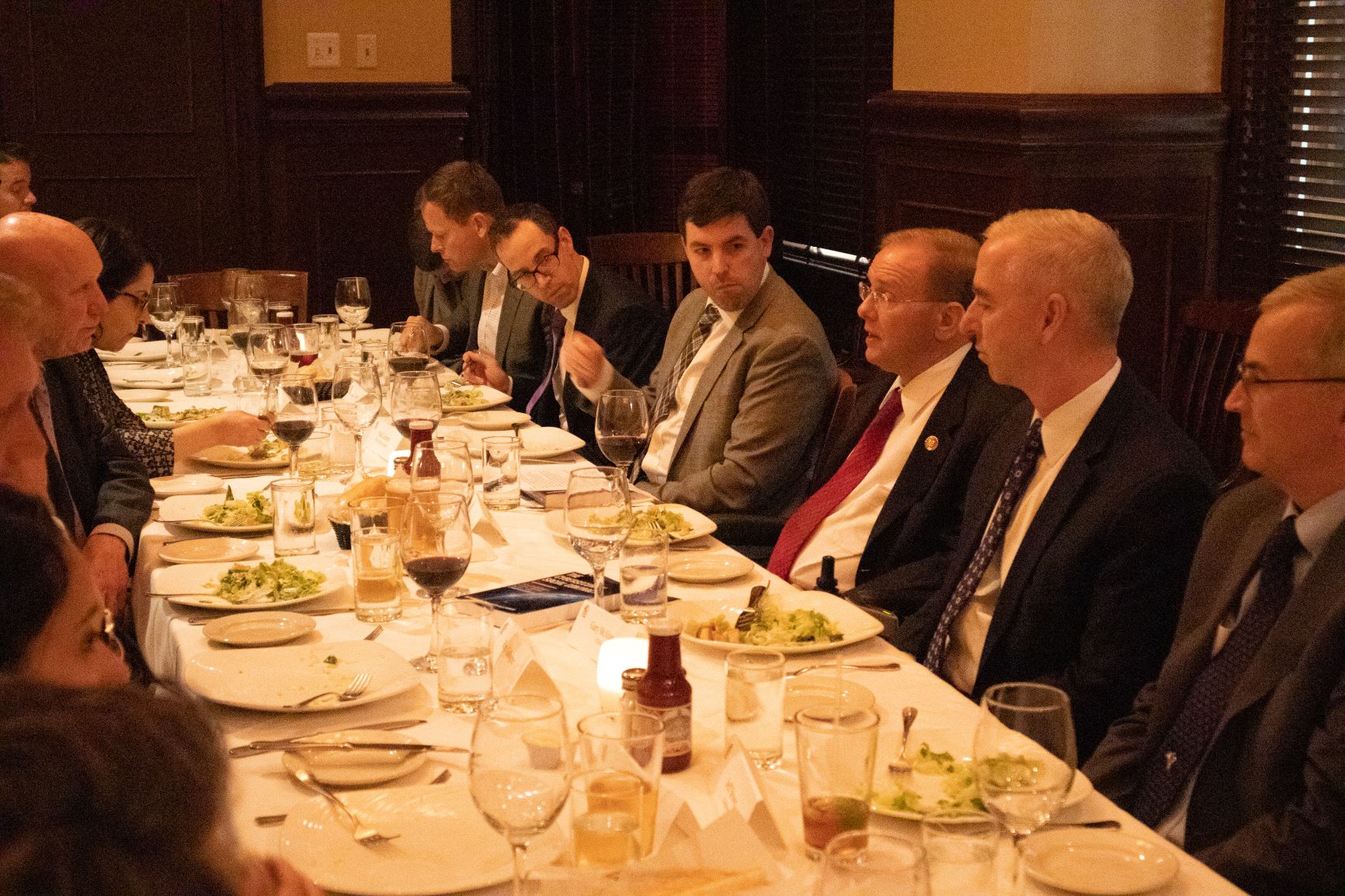 Representative Gallagher is co-chair of the Cyberspace Solarium Commission. The Commission is charged with developing the consensus on a strategic approach to protecting the technological advantages of the United States within cyberspace against adversarial attempts to gain an advantage over the United States in the space. Representative Gallagher comments:
"Cyberspace is a decisive battlefield in the 21st century," said Rep. Gallagher. "Every day, Americans are on the frontline of a new kind of conflict—wittingly or not—and we lack a plan to combat these challenges. It is imperative we take immediate action. Taking a page from President Eisenhower, the Commission's goal is to bring together the country's best and brightest to develop a comprehensive, strategic approach to counter these growing threats."
Board Salon Dinners
A special feature of ISA board advocacy are our twice-annual Board Salon dinners. These unique events bring the ISA board together for extended, off the record, candid, wine-and-food aided conversations with senior White House, Congressional or government policymakers targeted specifically to cybersecurity topics of mutual interest. Previous salon dinner events follow.
2019 Board Salon Dinner
At the ISA Board Salon Dinner in April this year, the invited speaker was Chris Hetner, formerly the Senior Advisor to the United States Securities and Exchange Commission (SEC) Chairman on Cybersecurity. Chris was also a leading member of the US Treasury Financial Banking Information Infrastructure Committee where he provided leadership across a range of cybersecurity programs impacting the financial services sector. Cybersecurity within the financial industry is a paramount concern for the ISA membership.
Chris Hetner, former Senior Advisor to the United States Securities and Exchange Commission (SEC) Chairman on Cybersecurity meets with the ISA Board of Directors during April 2019 Salon Dinner.
The next salon dinner will occur in October 2019 during the ISA Board of Directors Autumn meeting. Congressional leaders on cybersecurity have been invited to be the guests of honor at the Board Salon Dinner.
2018 Board Salon Dinner
The ISA's special guest during the October 2018 Board Salon Dinner was Chris Krebs, Director of the Department of Homeland Security's Cybersecurity and Infrastructure Security Agency (CISA). ISA has a long tradition of working with DHS though our work with the Sector Coordinating Councils on such items as information sharing, cyber insurance, resiliency and small company outreach. In addition, ISA has worked independently with DHS on efforts such as integrating DHS into our work with corporate boards as well as with the audit community as we work on transforming cybersecurity auditing to a more risk management model.
Previous Board Salon Dinners
Among the special guests at ISA board Salon dinners have been Senate Intelligence Committee Chair Richard Burr and Ranking Member Diane Feinstein. Each of the White House Cybersecurity Senior Advisors—Howard Schmidt, Melissa Hathaway, Michael Daniel—have also been honored guest. So has former Homeland Security Secretary Michael Chertoff, House Armed Services (and Chairman of the House Republican Cybersecurity Task Force) Mac Thornberry, House Intelligence Committee Chair Mike Rogers and many others.
We used some of the dinners as an opportunity to give out the McCurdy Award for Innovation in Cybersecurity Policy Development. This award, which is not necessarily given on an annual basis, is named for ISA's founder, former Rep. David McCurdy, and given only exceptional innovators in cyber security policy.
At the fall 2017 ISA Salon dinner, the McCurdy award was given to House Homeland Security Chairman Mike McCall. In 2016, duplicate awards were given to Senators Burr Diane Feinstein for their work in getting the Cyber Security Act of 2015 passed into law.