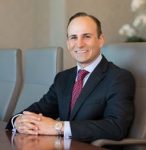 Corporate Executive Vice President, Chief Risk Officer
FIS
Greg Montana leads the strategic development and execution of FIS' risk, information security and compliance programs.
Highly experienced in risk management, Montana has spent more than 20 years successfully managing risk at some of the world's most recognized financial services institutions, including Bank of America, where he served as senior vice president and senior operational risk executive; PayPal, where he served as senior director, global risk operations; and Lloyds Banking Group, where he was director, operational, credit and compliance risk. He is a Certified Chief Information Security Officer (CCISO).
Montana is a current member and former Chairperson of the Jacksonville (Fla.) Board of Catholic Charities and a member of the Board Executive Committee for Metrolina Association for the Blind in Charlotte, N.C. Committed to the advancement of risk management education, Montana is an adjunct professor of risk management at Flagler College in St. Augustine, Fla., and received the Risk Management Association's (RMA) Special Service Award in October 2012; the same year he joined FIS. He also has authored four articles in the RMA Journal.
Montana holds a master's degree in business administration from the Wharton School of the University of Pennsylvania and received a bachelor's degree cum laude from Boston College. He received his six sigma Black Belt Certification from Bank of America in 2005.